Spectrum w/ Kill The Noise - Fire Club London
#1 :: Post by Bugbitten on February 04 2014 13:31:12
Spectrum
Friday 28th February
Fire - Vauxhall - London
22:00- 06:00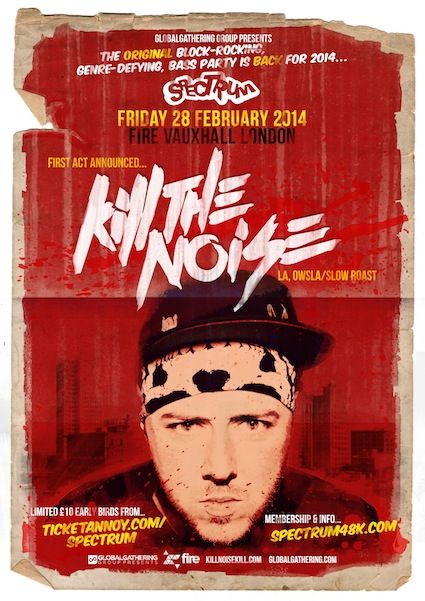 Following a 2 year hiatus away from clubs, festivals and warehouses, Spectrum, one of the UK's most influential underground club nights, makes a much-anticipated return to London this February.

Started by Pete Jordan in Nottingham in 2001, Spectrum became one of the most successful nights in the city's illustrious dance music history. From the early days based at The Bomb and Stealth, Spectrum started to travel and found new homes in Birmingham (Custard Factory, Air, Rainbow, The Institute) and London (Matter, Great Suffolk Street Warehouse) as well as breaking into Spectrum festivals such as GlobalGathering and large scale events across Europe.

Originally linked closely to the emerging UK breaks scene, it was the programming across a broad range of genres that made the Spectrum club nights peerless - bringing together artists who you'd never likely to see play on the same bill - apart from at a festival.

To mark the return, Los Angeles' bass music prodigy Kill The Noise makes a rare appearance in Europe as the first act announced on the line-up. With music featured on Skrillex's Owsla, and Deadmau5's, Mau5trap labels, and his across the board production that seen huge tracks covering all styles of electronic music, this is guaranteed to be a dynamic and unique performance.

Spectrum founder, Pete Jordan commented: "After a bit of a break from events, I'm really happy to bring Spectrum back to London. Our London events in 2011 and 2012 are still some of the most talked about shows in our history, and 2014 will see a new chapter for the Spectrum brand. I'm excited to be working in collaboration with GlobalGathering on the events, and I expect that the forthcoming events will cover more bases then ever before whist being better produced than ever."

Further acts to be announced across January.

Early bird tickets on sale now from £8 + booking fee
http://bit.ly/JHlf6d

Links:
Website: www.spectrum48k.com
Facebook: www.facebook.com/...
Twitter: www.twitter.com/s...
Soundcloud: www.soundcloud.co...